Hier erklärere ich den Lentikulardruck und das Kalender-Druck-Projekt.
Here I explain lenticular printing and the calendar printing project.

Ich mag es, verschiedene Drucktechniken auszuprobieren und organisiere deshalb
jedes Jahr einen gemeinsamen Kalender mit anderen Illustratoren.
Meist drucken wir in den Werkstätten des Künstlerverbandes Berlin
- Siebdruck auf einem Halb-Automaten oder Linoldruck auf umfunktionierten Offset(andruck)maschine.
Wir drucken aber auch in anderen Techniken mit anderen Partnern
- so beim Lentikulardruck und beim Risografie-Druck.
Alle Drucke gibt es auch als Einzeldrucke - entweder hier im Netzladen Edition Hammeraue
oder schreibt mir eine Elektropost.

I like to try out different printing techniques and that's why I organise a
a joint calendar with other illustrators every year.
Most of the time we print in the workshops of the Berlin Artists' Association
- Screen printing on a semi-automatic machine or lino printing on a converted offset machine.
But we also print in other techniques with other partners
such as lenticular printing and risography printing.
All prints are also available as single prints - either here in the net shop Edition Hammeraue
or send me an e-mail.



1 - Risografie
Risografie wird immer mehr genutzt und die Riesografie-Zweifarb-Drucker haben heutzutage viele verschiedene Vollfarben zur Auswahl.
Besonders schön: Die Risografen arbeiten mit Farben, die lösemittelfrei auf Pflanzenbasis sind.
There is more and more use of risography and today's printers have many different full colors to choose from.
Especially nice: The riesogrphy work with colors that are solvent-free on plant basis.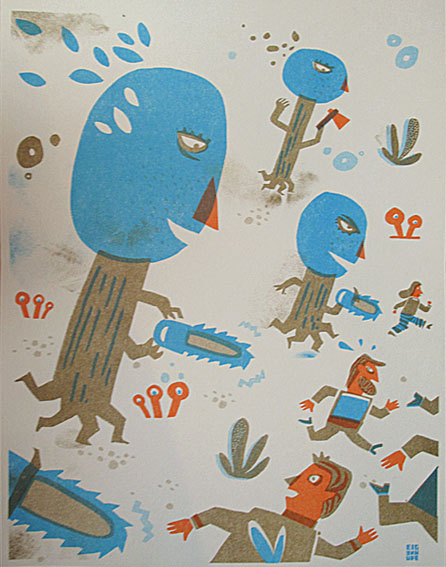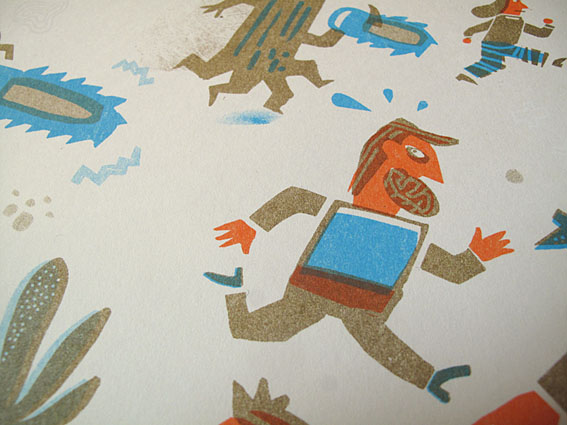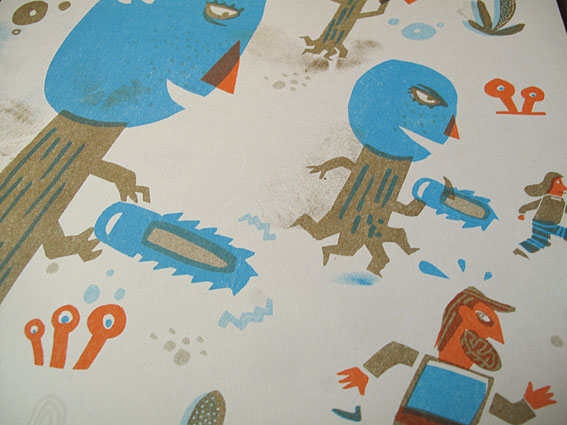 EndlichJetzt rächt sich der Urwald an den Menschen - eine Seite aus dem Kalender 2018 »Urwald«
EndlichNow the jungle retaliates itself to humans - a page from the Calender 2018 »Virgin Forest«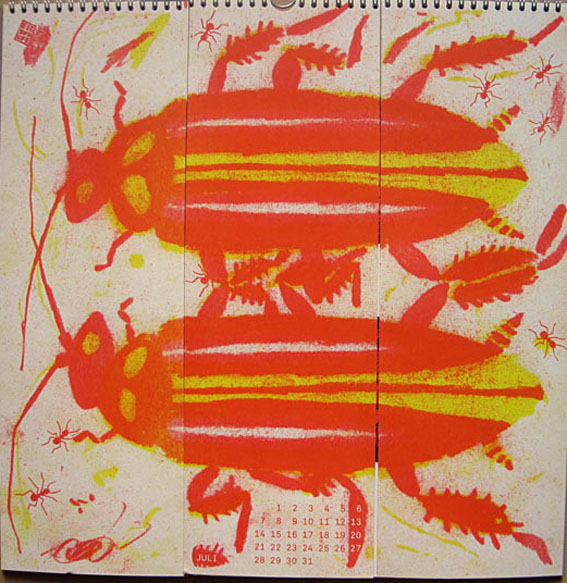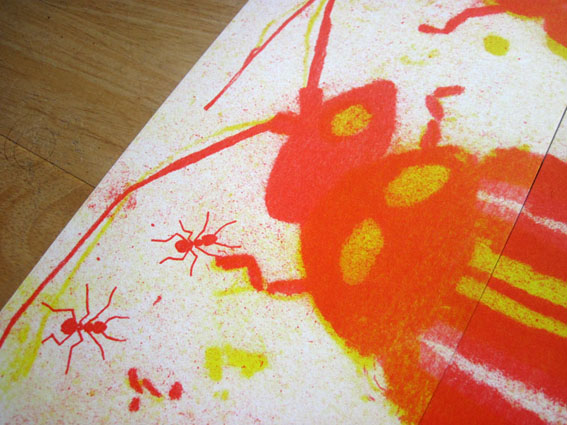 Meine Seite mit verliebten Kakerlaken aus dem Kalender 2014 »Kamazootra«.
My page with cockroaches in love from the 2014 »Kamazootra" calendar«.



2 - Lentikulardruck
Bei einem Kalender haben wir auf normale Offsett-Illustrationen Lentikulardrucke in unterschiedlichen Formen aufgebracht
- so bewegen sich Teile der Illustartion im Vorbeigehen.
Cool stuff - lenticular print. If you move along the calendar - parts of thje illustrations are moving.
This is normally used für flipping postcards.





Im Vorbeigehen ändern sich die Buchstaben zu...
In passing, the letters change to...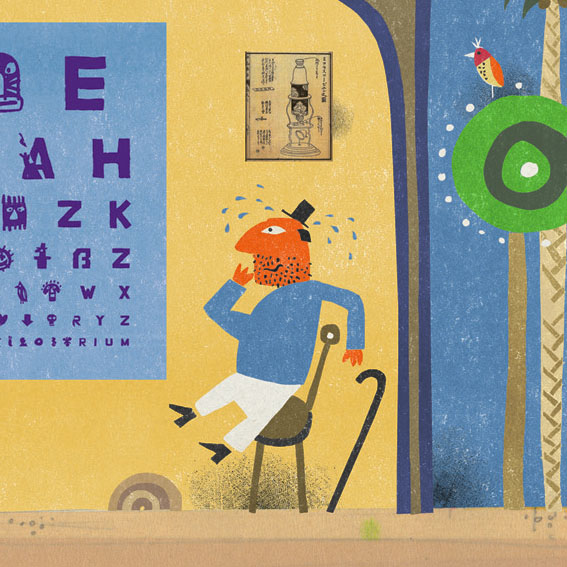 ... Gesichtern und Fratzen. Meine Illustration »Opticus« aus dem Kalender 2015 »Lentikularium«
... Faces and grimaces. My illustration »Opticus« from the 2015 »Lenticularium« calendar



3 - Linoldruck
Linoldruck macht Spaß & Blasen an den Händer und machmal spritz auch Blut, wenn man in langen Linol-Schnitz-Nächten das Linolmesser ausrutscht.
Das ist aber kein Problem - das Blut sieht man auf den späteren Drucken nicht.
Linoleum printing makes fun & blisters on the hands and sometimes blood sprays when the linoleum knife slips during long nights of linoleum carving.
But that's not a problem - you won't see the blood on the later prints.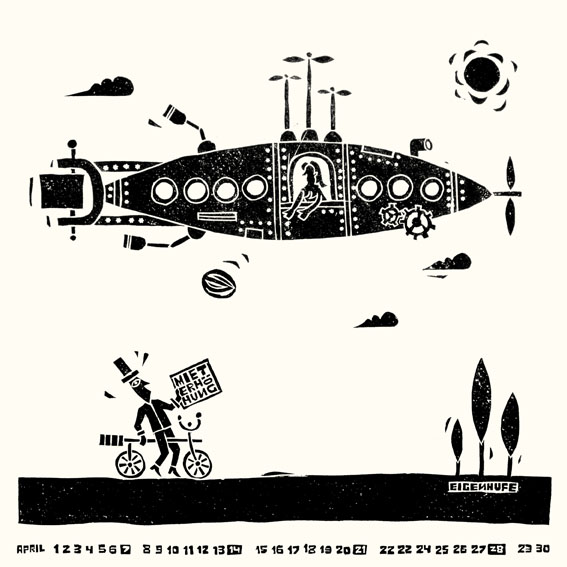 Meine Illustration »Mieterhöhung« aus dem Kalender 2013 »Zylinder & Melonen«.
My illustration "Rent increase" from the 2013 calendar "»Zylinder & Melonen«.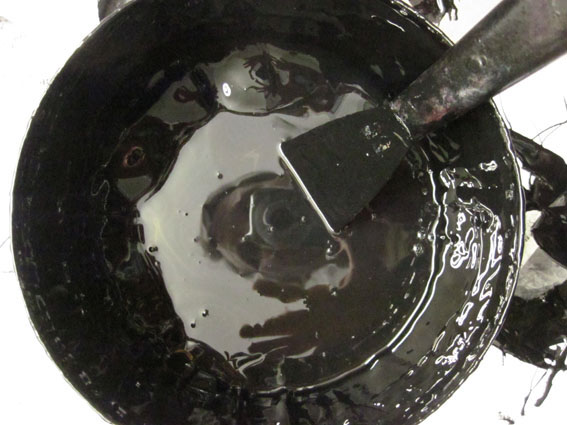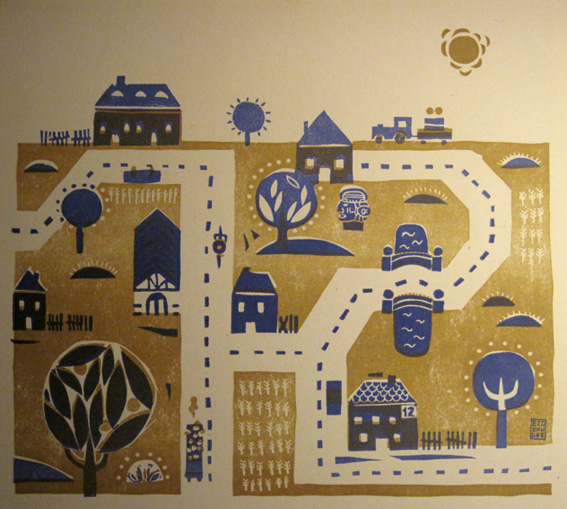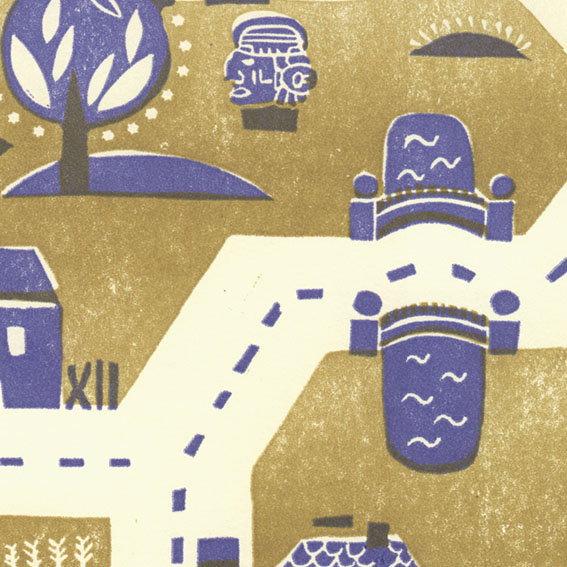 Meine Illustration »12« im November aus dem Linoldruckkalender 2012 »Dutzend«.
My illustration »12« in November from the linoleum print calendar 2012 »Dozen«.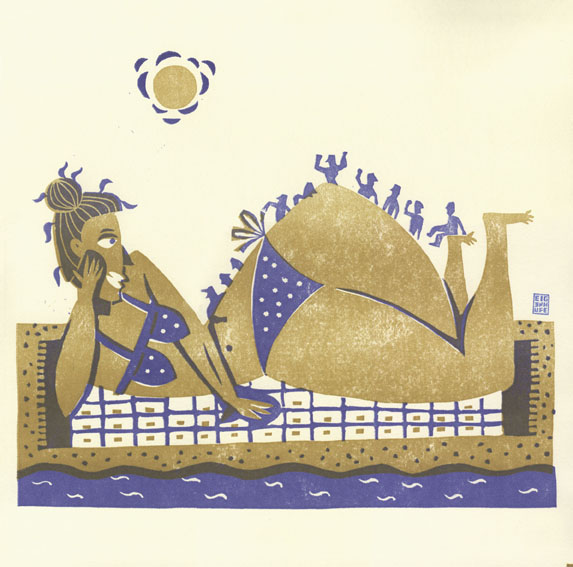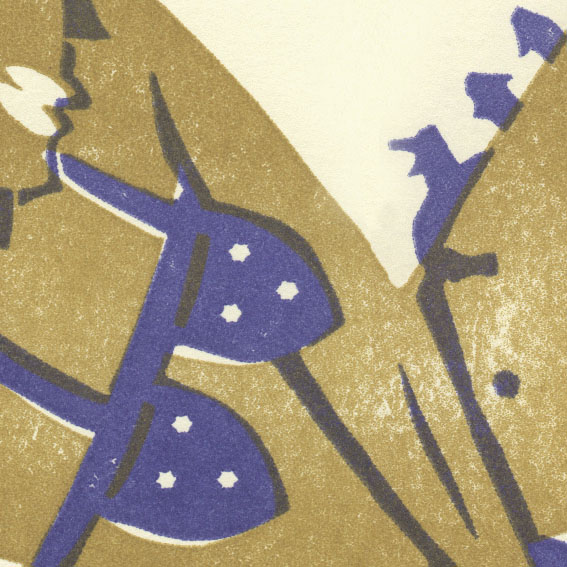 Meine Illustration »Zwölf Männer« im Mai-Blatt aus dem Linoldruckkalender 2012 »Dutzend«
My illustration »Twelve Men« in the May sheet from the 2012 linoleum print calendar »Dozen«.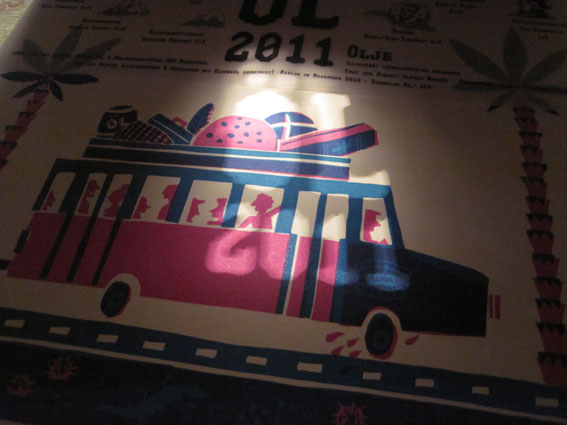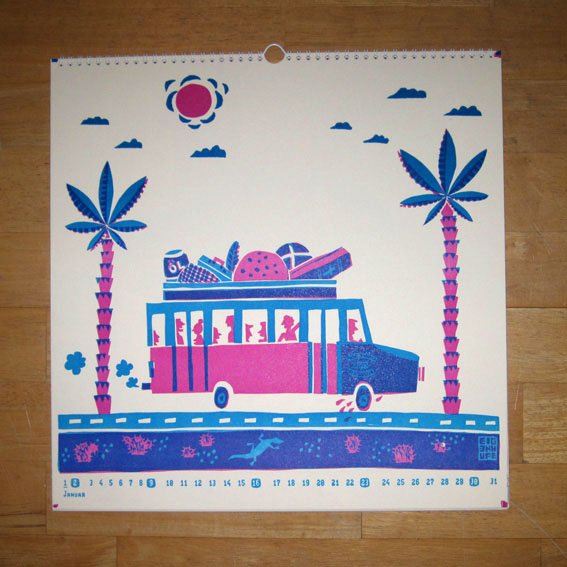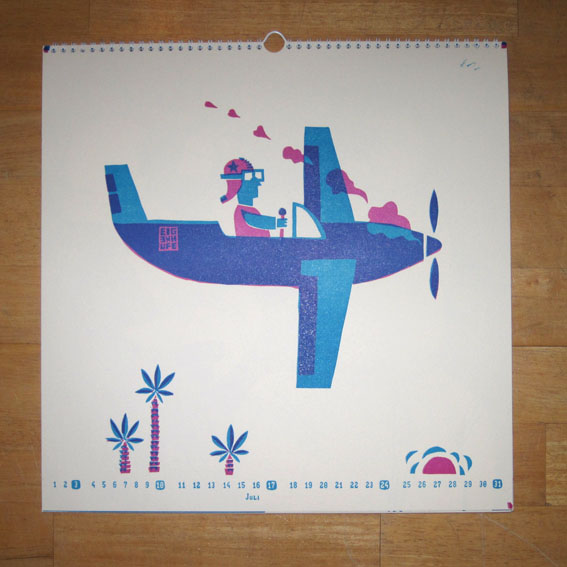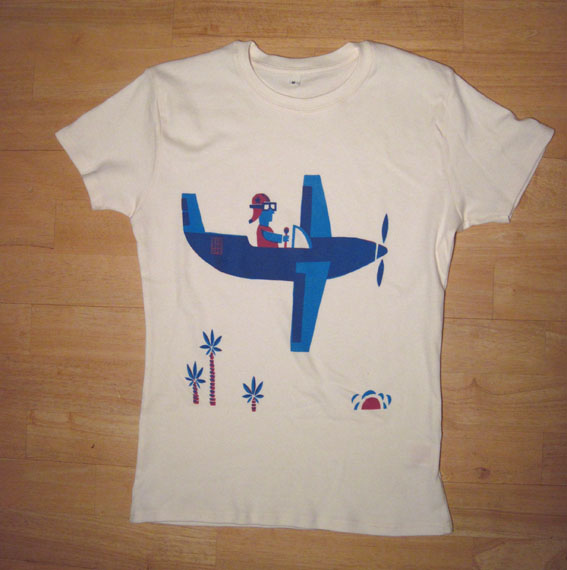 Meine Illustrationen aus dem Linoldruckkalender 2011 »Öl«.
My illustrations from the linoleum print calendar 2011 »Oil«.



4 - Siebdruck
Beim Siebdruck kann man tolle kräftige Pigmente nutzen, die im Offset so nicht druckbar sind.
With screen printing you can use great strong pigments that are not printable in offset.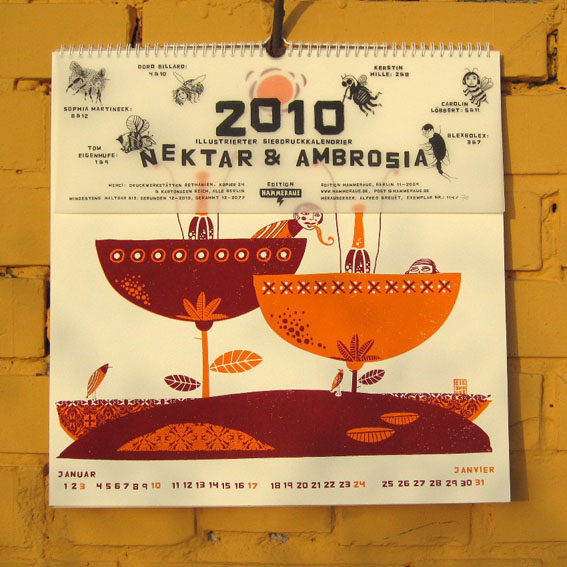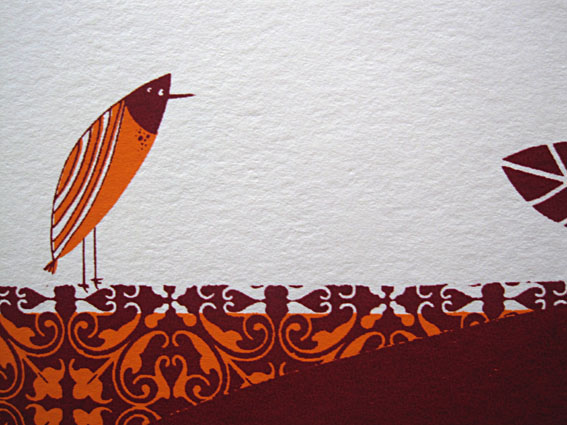 Meine Illustration »Ambrosia« für Titel/Januar aus dem Kalender 2010 »Nektar & Ambrosia«
My illustration »Ambrosia« for title/January from the calendar 2010 »Nectar & Ambrosia«.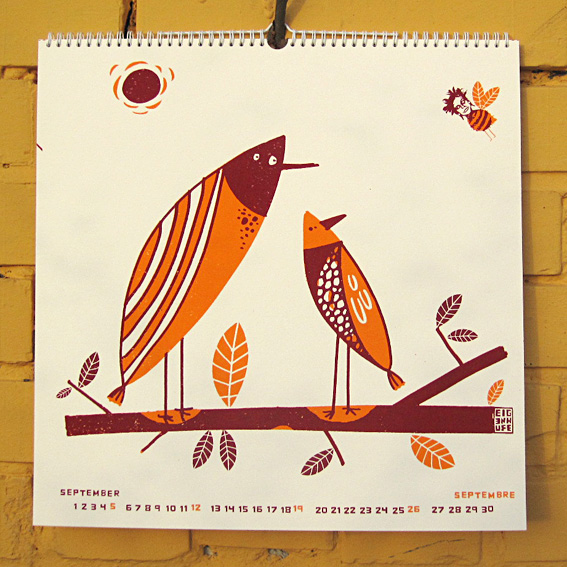 Meine Illustration »Nektar« für September aus dem Kalender 2010 »Nektar & Ambrosia«
My illustration »Nectar« for September from the calendar 2010 »Nectar & Ambrosia«.